Portable Storage
20′ Storage Units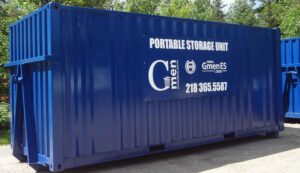 Whether storing building material, the tools of your trade or setting up a makeshift office, our portable storage units are your secure, immediate and cost effective solution. Delivered when you need it and placed in an area easily accessible to you and your crew, a portable storage unit keeps what you need to do close at hand.
Material Storage
Tool & Equipment Storage
Onsite Workspace
Homeowner's Goods
Workshop Storage
Contact G-Men today to check availability on storage units.